The age-old question, "Which is best, hydraulic or mechanical? Pin Grabber or Dedicated? What are the benefits?"
Harford are well versed in these types of questions and have developed a systematic approach to helping
customers identify which quick hitch is the best fit for them. Often customers have already decided which
coupler they want to purchase before they get in touch, but the Harford Sales Team are always ready to
offer guidance or reassurance about products and the options available. We recently launched a free
website tool containing a list of criteria you should consider when selecting a quick coupler; you can find it
here https://www.harfordattachments.com/couplers/coupler-finder/
The coupler purchasing journey often starts with a mechanical option, most customers want something
that is easy to install and maintain at a good price point. When running a mixed fleet of excavators,
Safelock is the perfect fit as buckets are inter-changeable between machines. So, with rentals, the
customer always has a range of buckets for the hire period.
The hydraulic option comes into its own where bucket changes need to be done quickly and safely from the cab; typical situations like the lone operator who needs to see an indicator from the cab showing buckets are secure, or operators working on a busy contracting site under pressure and need the productivity edge.
Harford are experts in their field and will help your inventory evolve as your business grows. One such
example of how the Harford-Customer relationship has developed is that of Yanmar & John Deere
Dealership, Ben Burgess, who have multiple outlets.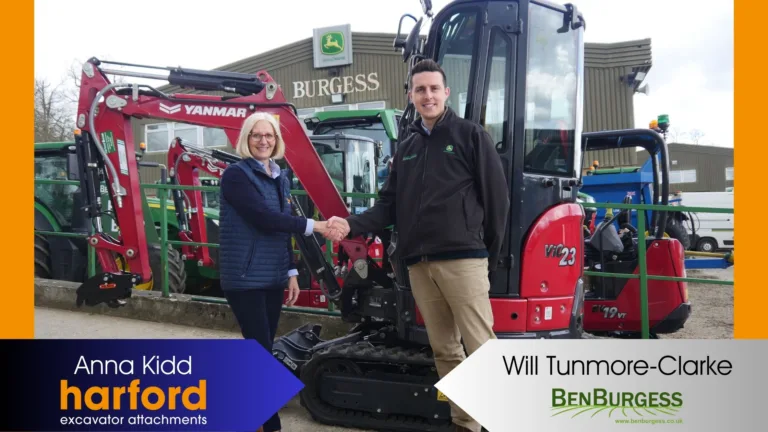 They first worked with the Harford Pro-Lok, a double-locking mechanical wedge style coupler for ¾ to 9T
excavators. As their business progressed, they started to specify its fully hydraulic brother, Uni-Lok which
extends up to 14T. Both are fully compatible for either Rental or Direct Sales and Ben Burgess use both in
their own rental fleet.
Being early adopters of hydraulic quick couplers back in 2015 whilst Hitachi Dealers, Ben Burgess quickly
recognized the huge benefits of being able to change buckets and attachments quickly and safely from the confines of the excavator cab, using just one switch.
This simple operation enables operators to complete most construction or landscaping jobs without the
need for an extra pair of hands, or eyes – great news in the current labor market. A built-in safety
indicator, visible from the cab, tells the operator that attachments are securely locked on. Uni-Lok also
provides great ROI as automatic attachment changes increase productivity and reduce downtime. Ben
Burgess specify the Harford brand of attachments and recognize them as a reliable partner for their
continued success. The consistent premium build quality, on-time delivery and full manufacturer's
warranty, means machines are equipped with the best attachment products in their class. Harford also
hold a comprehensive parts inventory and provide excellent technical resources, including quick coupler
installation and bespoke certified training in coupler operations. You can see a Uni-Lok hydraulic quick
coupler working here https://www.harfordattachments.com/couplers/uni-lok/
All Harford quick couplers can be upgraded to a Tilt Coupler, giving a full 180-degree swing and a tilt motor
with class leading torque. This combination has the power to take grading and landscaping jobs to a whole
new level. See a Harford Uni-Lok Tilt Coupler in full swing at https://www.harfordattachments.com/couplers/tilt-coupler/