It's a wrap! Harford enjoyed yet another successful exhibitor experience at ARA Show 2023 in
Orlando this month. We were pleased to welcome many visitors to our booth, all of whom were
keen to learn about Harford's new products, feel the build quality of the attachments themselves
and learn about business developments.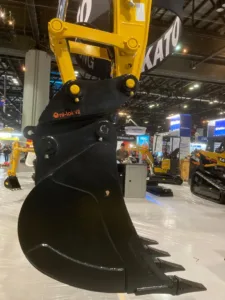 Making its ARA Show debut was the new Uni-Lok V2, as seen above, this hydraulic pin grabber, developed specifically for 12-14T excavators. The V2 compliments the extensive range of Harford couplers and pin grabbers serving the rental market, including Safelock® the long-established dedicated mechanical coupler, Pro-Lok® the wedge-style mechanical pin-grabber, and Uni-Lok® the hydraulic pin grabber for excavators ¾ to 9T – all produced in their UK factory and stocked in the Clearwater, FL facility.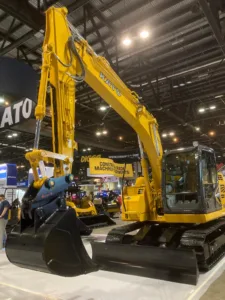 2023 promises to be another busy year for Harford. With brand awareness increasing their plans include appointing distributors and dealers for their popular range of couplers, pin grabbers, buckets and special application attachments, all of which can be found on their website at www.harfordattachments.com

Looking even further ahead, Harford will be visiting Con-Expo 2023, although they aren't exhibiting this year, if you would like to meet one of our representatives, please leave a message using the Contact form on the website and we can arrange a time to discuss your needs.
Alternatively, they'll be back at ARA Show in New Orleans, February 2024, where you're sure to find a very warm welcome.